Search found 194 matches
by Varenna

Sun Oct 18, 2009 7:02 pm
Forum: General
Topic: Let's Play Oregon Trail
Replies: 64
Views: 12214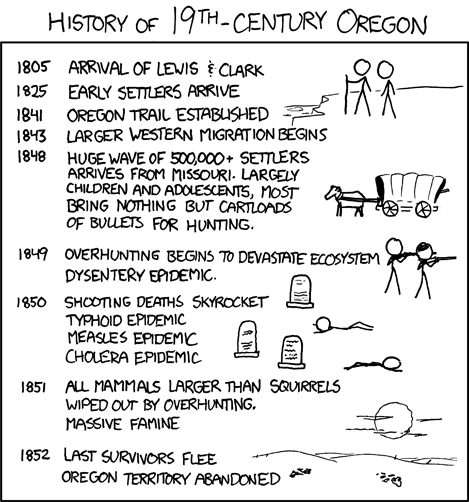 This is your fault, guys.
by Varenna

Wed Sep 30, 2009 6:54 pm
Forum: Spoilers
Topic: Five of You vs. Arthas
Replies: 7
Views: 5171
*kneejerk emotional reaction* FUCK THAT SHIT. *measured and calm response* I don't think a party mass-MC will be the case. While it wouldn't surprise me to see Jaina and Sylvanas bite it in some epic fashion, if they do it had better be at Arthas's hand. He desperately needs the villain credit. More...
by Varenna

Tue Sep 29, 2009 10:26 pm
Forum: Roleplay
Topic: The Music Thread
Replies: 82
Views: 47424
This song is on the Bird and the Bee album I can't stop listening to. It fits an awful lot of Riders, and probably the guild as a whole. You're A Cad The Bird and the Bee So now you want the whole world To notice that you've come around Now you expect we'll see how You're really so much better now ...
by Varenna

Mon Sep 14, 2009 6:06 pm
Forum: Roleplay
Topic: Current Happenings
Replies: 301
Views: 96399
Last night, Adel Ashawe's shop was broken into by a buzzbox thief. One might say it was a grizzly affair. The damages left behind were unbearable to the poor woman, so she decided to unwind with a bubble bath. Her gorloc hatchling joined her in playing with suds all around Dravir's apartment. Witne...
by Varenna

Tue Sep 01, 2009 5:45 pm
Forum: General
Topic: Disney acquires Marvel
Replies: 14
Views: 3398
Potentially horrifying, but if Disney does the smart thing and follows the same "Give them money and leave them alone" strategy they use with Pixar, this could actually be really good for Marvel.
by Varenna

Sat Aug 22, 2009 7:19 am
Forum: General
Topic: An Official TRI Guild?
Replies: 12
Views: 3784
I think it's too soon to consider this. We don't really know what the benefits for leveling a guild will be, and we don't know what the leveling process requires or how it works. I do doubt Blizzard would do anything so powerful it would actually impact gameplay to raid with people outside of your g...
by Varenna

Fri Aug 21, 2009 9:17 pm
Forum: General
Replies: 53
Views: 11470
by Varenna

Wed Aug 19, 2009 5:03 pm
Forum: General
Replies: 6
Views: 1625
Further proof that bugs are evil.

Also, ew. ><
---