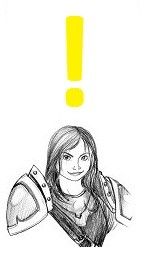 As the camp rouses about her, an auburn-haired woman stands in the clearing between tents, dawn flickering off her armor. Her gauntlets are tucked at her belt so that she can hold a roll sheet in one hand, which she glances at and marks as you approach. Whatever feelings are passing through her mind on the morning of the great battle for our time, she keeps them to herself; her heart-shaped face is a model of calm professionalism, and there's even the faintest hint of a smirk to her brisk smile.
About time you were awake. Breakfast is on. My mother never said "Don't go to war on an empty stomach," but I think she should have.
Eaten already? Well, then, you'd best join the muster. There's a break in the wall, at the third point of the northwest facing, and that's where we're going in. Some of us a bit sooner than others - Jak Balthasar's in with the cavalry. I hope you brought your own mount, because Tarq wouldn't let me pay for extras. Stay clear of Darrows if you go over there, though. She's not happy with his, uh, tactics.
If you're not feeling chivalrous, the boss has a project in mind. He and my sister are rubbing their fingers together and cackling about it over there, and Ulthanon hasn't stopped grinning since they recruited him. So, you know that's going to be something for the ages.
The Skybreaker's taking off in two hours, and they're soliciting volunteers. I can't recommend it, but I guess I wouldn't recommend
against
it either. But if you've really got what my daughter might call the "bawks" for it, you should talk to Illithias.
Bricu and I are going to bring the banner in after Balthasar's charge. We'll deploy from there. Pick your poison, soldier.
Threnn begins to move towards the next person, but stops and turns her head. She is definitely smirking now.
I'll tell you a secret, by the way. Are you ready?
Threnn takes a step towards you and puts a hand on your shoulder.
We're going to win. Don't tell the Lich King. Now get your arse moving.
Threnn Bittertongue wants you to report in to the muster of the Wildfire Riders and their allies, and select an assignment or present your own plan of attack.