Moderator: Guild Officer
Must right-click/view for the full cuteness.
Pitch climbed Mount Neverest.
Will you carry me down the aisle that final day
With your tears and cold hands shaking from the weight
When you lower me down beneath that sky of gray
Let the rain fall down and wash away your pain
---
Somebody please tell me, what the fuck am I looking at here?
---
A giant chick-a-doodle playing a guitar out of a voodoo mask.
Obviously.
"A little extra DPS never killed anyon... Oh wait."
"Still alive, I see. Clearly you're not trying hard enough."
---
Wait, we have a screenshot thread. I'll just leave this here.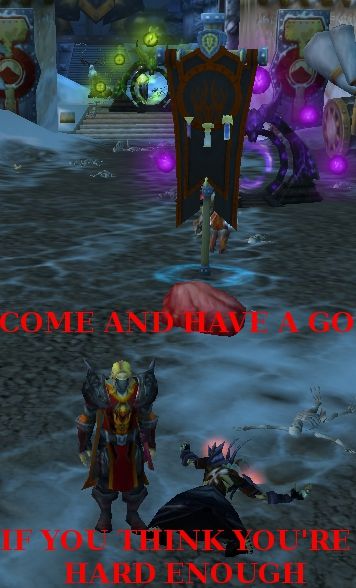 Now hang me by this golden noose
'Cause I never been nothin' but your golden goose
Silver tongue don't fail me now
And I'll make my way back to you somehow
---
I call this one "Height Disparity"
I am become Illithias, Destroyer of Worlds.
---
---
Who is online
Users browsing this forum: No registered users and 3 guests