Moderator: Guild Officer
Mornings are for boxing lessons. Night time is for swaying.

And every day is Diaper day for Bricu.
---
Posts: 743
Joined: Thu Nov 13, 2008 8:14 pm
Genise is very drunk, or hi. You choose. The Silver Feather just reached a milestone of paid accounts and it's making her very, very happy. (And possibly rich.)

Carystin has went against Ilarra's orders and approached one of the Highborne men, who she is quickly becoming friends with.

Chryste is preparing for the fight against Arthas. She recently met with an Argent Crusade member of some reknown about being recruited into the attacking party. This possibly won't end well for her.

Isi sightings have been more frequent in Dalaran as of late, theft has been on a rise. Some might say it's an odd coinkydink, especially since Tarquin recently migrated there.

Caile is a shaman who doesn't feel something wrong in the earth. Nature isn't warning her of Deathwing's coming, the Emerald Dream's problems, Varian Wrynn's secretly petite feet or Bairix's girdle. All equally important things that every shaman or druid should know before Cataclysm has a set date.

Rayala has been side by side with Varenna in Icecrown Citadel, doing her best to make sure her best friend doesn't bite it. She's also become immersed in a newspaper article she now writes for the Stormwind Bugle.

Yazzy is as scarce as ever. Rumor has it that Veratha the Black's prized slave may have rebelled and escaped. This is good news to every other pirate cap'n wanting a prized slave.

Valley is making bombs, lots of bombs.

Bibi is showing boobs, lots of boobs.

Haylie has been sent to Northrend to assist the Crusade in their fight. She's been stationed at Light's Hope in Zul'drak for the time being.
---
Bellesta
has been aloof as of late, for a number of reasons. She's fairly off kilter after a number of events popped up at once. In particular, she met with an old friend/old flame recently, after thinking him dead for a few years. His reaction to seeing 'what she's become' since they were an item was rather blunt, and ended with him explaining very carefully how she can go fuck herself three angles sideways. There was also a less than delicate 'I told you so' related to her dead daughter. As a kneejerk reaction, she's thrown herself into the Icecrown fight to try and prove to herself that she's at least putting her skills to something of a good use.
Adel
found herself in some sort of awkward truce with Tif. 'Truce' means they've gone from not talking to outright trying to fuck one another over in the name of
science.
Otherwise she's busy being a healer in Icecrown, and hoping she comes out of it alive.
---
Ceil's around, more so for some people than others. Her buzzbox is back on again, after nearly a year of being out of commission.
---
Pitch has been out of Stormwind quite a bit, mostly heading to Eastvale or Westfall. He's also been a bit more cheerful lately. >.>

Shaurria's been scarce as well. She's spending a lot of time with Pitch's brother Alanon, learning healy stuffs. She can still usually be found at the Pig at night, although most nights she simply goes straight to sleep. Who'd have thought healing would be so tiring?
Will you carry me down the aisle that final day
With your tears and cold hands shaking from the weight
When you lower me down beneath that sky of gray
Let the rain fall down and wash away your pain
---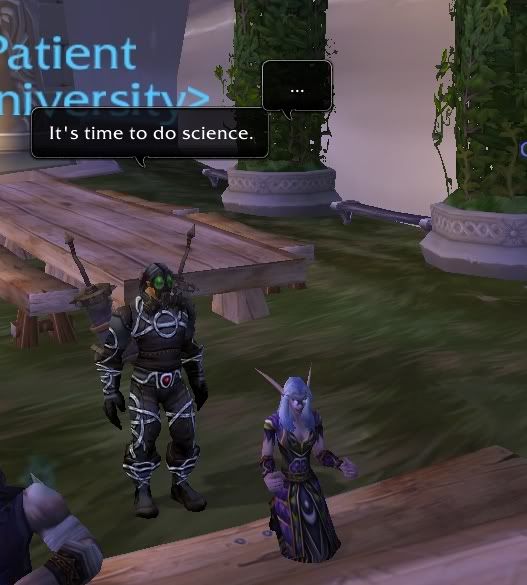 Science happened.
---
This is why Tif never does nice things for people.
I'm all man and all machine, a little sicko, little mean
I rock your brains out and you're sure to be damned
I lick your little finger then chew up your hand
for that's who I am: The Biomechanic man.
---
We need more screenshot updates. Unfortunately, I have none.

Delion is spending time with friends, when he's not helping the war effort. He seems to be relaxing a little and being more casual than his stodgy self, and has decided that in the event he survives the inevitable confrontation with TLK, he will seek to become a member of Stormwind nobility through huge amounts of coinmoneys.

For now, he's taking his mind off field medicing as often as possible.
<Fells> I SEE YOU DELIPON
<Fells> YOU'RE A KLITTY
---
---
Posts: 638
Joined: Thu Nov 13, 2008 4:08 pm
Isn't that just a given.

That's like saying "Dorri went home with Keltyr"
---
---
Who is online
Users browsing this forum: No registered users and 1 guest