Scary Mary
- The friendliest and probably best known whore between Old Town and Goldshire, Scary Mary's only scary because she's 6'1". She's got wild orange hair, freckles everywhere, and a good story for a coin. A good blowjob too, but that goes without saying. Scary Mary's got a soft spot for gin, and for a flask, she'll pull up onto a step and tell a tale or two about her whoring.
Caroline McErickson
- The Editor in Chief of the Stormwind Dailies. She's slight of frame with long straight blond hair, spectacles on her nose, and usually dressed in a man's suit.
See:
She's quite gay, and quite happy oggling the ladies. She's also incredibly well connected in society, and can be found anywhere from White's Gentleman's Club (she's the exception to their No Girls Allowed rule) to Sweet Sixteen Nobility birthday parties. She also happens to be quite enamored (in just a friendly way?) of Vincenza Whitten.
Harringford Stone
- Vincenza Whitten's father. Tall, with dark hair, a trim goatee, a bowler hat, and a really nice brown suit and walking stick. He's a merchant, no really. That's why he has those men who work for him and carry out some of Stormwind's seedier deeds. He's a "private sector" that works with SI:7. His right hand man is . . . .
Uncle Charlie
- He doesn't have a last name, and he doesn't respond unless you call him Uncle Charlie. He's about 6'3, 300 pounds, with a huge bushy beard and a cigar. There's cleavers lining the inside of his leather duster jacket.
See: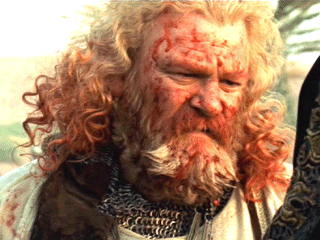 Now fucking run if you know what's good for you.
*****
Some NPP's - non player PLACES:
White's Gentleman's Club
- fashioned after the famous one in London from a billion years ago. It's an upscale club catering to men only. There's a lot of business transacted over their poker tables. Their matchbox girls are pretty hot too. And at times topless.
Pollyanna's
- A small cafe on the quiet side, between the canals and the mage quarter. Pollyanna's is a nice, quiet substitute for Galahad's. There's outside seating in the summer months, and a lovely selection of homestyle food!